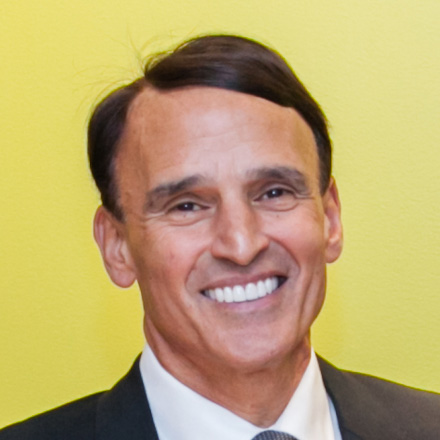 Dr. Robert Pearl received his medical degree from the Yale University School of Medicine, followed by a residency in plastic and reconstructive surgery at Stanford University. He serves as a clinical professor of Plastic Surgery at Stanford University School of Medicine, and he is on the faculty of the Stanford Graduate School of Business. He is also a Forbes contributor, author of a bestselling book called Mistreated, and host of the "Fixing Healthcare" podcast. You can subscribe to his monthly newsletter for insights into American healthcare.
What was the journey you took to get to the portfolio career you have now? 
It is almost impossible to recreate the exact same path as windows open and close at serendipitous times. I started my first career as a plastic surgeon, striving for the best results for individual patients. My second career, as CEO of the Permanente Group [largest clinician group in the US, the delivery system half of Kaiser Permanente] was focused on improving health and making it more affordable for five million patients. As CEO, we went from being a technology laggard to being number one in the world perhaps – we had an EHR installed long before anyone else and provided over 10 million virtual visits a year. 
 
As CEO, I also watched the American healthcare system facing progressive problems, and I could see that Kaiser's care delivery, use of technology and integrated approach were vital pillars for improving the system. Then, whilst I was still CEO I wrote my book Mistreated: Why we think we're getting good healthcare and why we're usually wrong. I wanted to impact and improve the health of all 330 million Americans. Publishing the book began my third career – fixing the US health system [at national scale]
What is one change you would make to medical school training? 
I recommend that every medical student spend one month during their final year at a business school to learn how to put together and lead high functioning teams. In fact, the American Medical Association has passed a resolution to build leadership expertise into the medical training curriculum. We will not achieve change unless physicians lead the process. Doctors will not change their practices unless they are led by peers they trust and have worked together with. We need to teach medical students these leadership skills if transformation is to occur.
I recommend that every medical student spend one month during their final year at business school
What positive impact could technology have on improving healthcare? 
You need to start by finding a clinical problem that truly needs a technology fix. Video visits will replace 30% of we do in person now. As an example, rather than seeing a patient to check a wound, most often we can assess if the operative site is healing well virtually. Similarly, rather than just sending patients to the ER [Emergency Room] at night or on the weekend for a non-urgent medical issue, most of the time an experienced physician can diagnose and treat the problem through a video visit.
Video can also connect doctors. As another example of what technology can accomplish, when a primary care physician sees a patient with a rash and isn't sure what to do, 70% of the time sending images to a dermatologist resolves the issue immediately and allows the treatment to begin, precluding the need for a face-to-face referral. Of course, the other 30% of the time patients do need to see the dermatologist.
Technology can also help doctors know when they need to see patients and when they do not. As a doctor I need to see you if you have a problem, and not if you don't. We can use wearable monitoring devices with artificial intelligence to inform patients when their chronic diseases are not adequately controlled. Video can then allow physicians or pharmacists working with them to alter the patient's medications.
Technology can also help doctors know when they need to see patients and when they do not.
What could the US system learn from the NHS, and conversely what could the NHS learn from the US system? 
The NHS has been designed to solve the health needs of the entire population, using national guidelines with regional implementation. The US has no equivalent to that. We have multiple systems for health insurance, and they leave 30 million people uninsured. Also, there is relatively little difference between the best and worst care in the NHS when compared to the variance in the US system.
However, the NHS is a political system that is under the whims of the political climate and the parties in power. Healthcare cannot sway that fast from one election cycle to another, and still adequately protect the health of the population. So the NHS needs to figure out how to be less political. The US provides an example of personalised care and access to care at its best, which the NHS could learn from. There is a major set of opportunities [to improve healthcare] through technology happening in the US, but the UK is not moving fast enough to implement these technologies. Video consultations is great example of a powerful technology not being implemented [at scale] in the UK, particularly for people living in more rural areas.
What is the one thing that you would do to fix the US health system? 
I have worked with hundreds of companies across different industries – I have yet to find one that is as inefficient as the US healthcare system that does not get disrupted. This disruption will happen from the outside, things won't change from the inside. Large self-insured employers in the US have motivation to change things [as they fund healthcare for so many people]. It could happen through someone like Haven Healthcare [the health insurance group created by Amazon, JPMorgan Chase and Berkshire Hathaway].  Or through disruptors like Dr Devi Shetty, a cardiac surgeon that has opened Health City in the Cayman Islands where Americans (and others) can get complex treatment with outcomes that are equal to the US at half the price.
There are four pillars which I think are key to fixing the US system:
Integration – Create multi-specialty medical groups, which means that primary care physicians and specialists are working together as one. It also means that in hospitals we make sure that for complex problems the care is provided by doctors who specialise in a particular procedure and do it often enough each year, not for minimal standards, but superior outcomes.
Capitation – Shift from a fee for service funding model to capitation [fixed annual reimbursement for each individual covered]. Capitated budgets align the incentives of all stakeholders. They encourage doctors to emphasise prevention, prevent complications from chronic diseases and avoid medical errors.
Technology – Integrate technology into a capitated system including video, data analytics, artificial intelligence and wearable monitors.
Leadership – Strong clinician leadership to achieve operational excellence and make things happen faster than they otherwise would.
What advice would you give to clinicians seeking to innovate on their respective clinical frontlines?
A motto I often used as CEO was that we needed to "innovate locally and learn nationally." Almost all of the improvements we made in quality, technology, access, operational excellence and hospital performance came from the efforts of a single physician or a small group in one location. At the same time, in healthcare it is often harder to scale than innovate. That's why training in leadership is so important.
Local leadership begins by asking a question: Why can't we do this procedure as an outpatient? Why can't we cut the mortality from sepsis in half? Why does it take an extra day for a patient admitted on a Friday night to get better compared to a person with the same problem on Monday or Tuesday night, and how can we improve? When clinicians ask these vital questions, care improves. And then when they can help others learn from their success, the value for patients rises exponentially. I encourage all clinicians to see themselves as leaders, innovators and teachers. When we do that, everyone benefits.
I encourage all clinicians to see themselves as leaders, innovators and teachers. When we do that, everyone benefits.